Laurie A. McCann, DO
Pediatric Gastroenterologist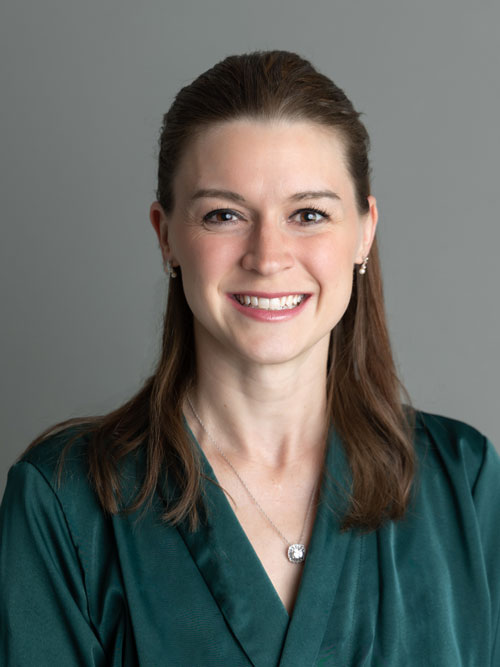 Education
Lincoln Memorial University, B.S. (2011)
Debusk College of Osteopathic Medicine, D.O. (2015)
Residency
University of South Alabama, Pediatrics (2019)
University of South Alabama, Chief Pediatric Resident (2020)
Fellowship
Children's Mercy Hospital, Pediatric Gastroenterology (2023)
Certification
American Board of Pediatrics (2020)
State Licensure
Kansas
Missouri
Honors
Robert O. Harris III Award for Outstanding Resident
Best Medical Student Teaching by a Resident Award
Patriot Award for Civilians
Memberships
American Partnership for Eosinophilic Disorders (APFED)
Crohn's and Colitis Foundation (CCF)
North American Society for Pediatric Gastroenterology, Hepatology, and Nutrition (NASPGHAN)
American Academy of Pediatrics (AAP)
Dr. McCann was very pleased to return to the Midwest after completing her medical education and residency in Tennessee and Alabama. She and her husband enjoy the Kansas City area, describing it as a "midwestern feel with just enough southern charm." Dr. McCann knew early in her career that she wanted to specialize in gastroenterology due to the diversity of organs and the complexity of diagnosis and treatment. She chose pediatric gastroenterology as her subspecialty due to her love of administering to children. Beyond her excellent subspeciality training, Dr. McCann's experience in osteopathic medicine provides her with an outlook in treating patients as a "whole" in pediatric medicine as well as educating patients and families on their health.
Dr. McCann completed her fellowship at Children's Mercy Hospital. She was interested in pursuing a community-based GI practice that is known for offering continuity of care with patients, building relationships with families, and fostering an environment for educating patients, thus stimulating her move to Midwest Pediatric Specialists. Patients describe her as a good listener who takes sufficient time to address their concerns in depth. She encourages open discussion with families to ensure they feel comfortable and have all their questions answered which enables her to tailor recommendations that work best for them.
Dr. McCann is married and has two children, two cats, and two dogs. Her and her family have a love for animals and have rescued many over the years, including frogs, cats, dogs, squirrels, and rabbits. She and her family love visiting zoos, aquariums, and national parks across the country and hope to visit as many as possible. They also love to take road trips with a goal of visiting all 50 states. In her free time, she likes to spend time with family, hike, read books on historical fiction, and garden.